About Us
Our Experience
We are a landscaping contractor established in 1990 on the Isle of Man, and over the past 26 years, we have worked relentlessly on building a reputation of providing the best and most bespoke service possible to all of our clients. With 41 years of experience of working in the landscape construction industry, we have the necessary knowledge, skills, and resources to undertake projects of all shapes and sizes; providing the same high levels of attention to detail to every single one. We offer a friendly and professional service to all of our clients and always strive for 100% customer satisfaction in every project.
Our Priority
Here at Land-Tec we believe that all of our staff have the right to work in an environment where their safety, health, and well-being are paramount. We strive to ensure that this is achieved in everything that we do. We recognise that nothing we do is too important or urgent that it cannot be completed in a planned and safe way. This means that wherever we work conforms to the highest of regulations and standards, resulting in a clean, safe environment for all.
Expectations
We expect our staff, and sub-contractors to:
Ensure health and safety is recognised as the core element of everything undertaken.
Take a lead in delivering excellent health and safety standards.
Understand and adhere to our expected behaviour and procedures.
Reject unsafe behaviour, sort cuts and unplanned work.
Engage with us to promote and improve our practices.
Attend work in a presentable, and fit condition to complete all tasks.
Report accidents, inlcuding 'near misses' to allow for investigation and well-being.
Training
Through training and culture of safe working practices, we can achieve out zero accident ambition. At Land-Tec we provide all of our staff with a high level of health and safety related training, in addition to maintaining their high knowledge of any potential tasks that may be asked of them. Additional job and project specific training is always provided before a job is undertaken.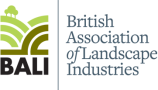 BALI
Running now for over 43 years, BALI is the industry's leading trade association. With this in mind, becoming a member of this prestigious organisation is not easy; there is a 23 point quality check in place that ensures it's members are the best there is within their industry. As a member we had to sign up to the BALI Code of Conduct that ensures that we carry out our practice to the very highest of standards and invest in staff training, development and the finest of health and safety procedures. In addition to this, we also have the environment and ethical implications of our practice at the very heart of what we do.
As a client of a BALI registered member, you are protected in that if an issue does arise between us and yourselves, helping to improve communication and assist in organising third party professional adjudication if needed. Essentially, as a client of a BALI registered member, you are protected and never alone.

Chartered Institute of Horticulture
The Chartered Institute of Horticulture (CIH) is the only organisation that can truly claim to bring together all professionals involved with every aspect and facet of the diverse industry that is horticulture. By being part of this institute we are expected to maintain the highest of standards in all that we do, and this is something that we achieve. By contracting a CIH member you get the very best in horticultural experience and results.